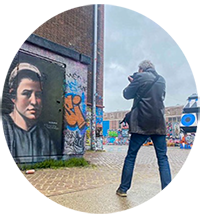 In 2006 FAILE stencils appeared in the streets of Amsterdam and I immediately started photographing them. This changed my way of looking at Amsterdam and turned me into a graffiti hunter. I took thousands of pictures and November 2017 Uitgeverij Lubberhuizen published my photo book:
To create this epic photo book I spent over a decade biking around in Amsterdam, hunting for Street Art. In and around the center and the outskirts of the city, I identified new tags and pieces. #STREETART AMSTERDAM features the artworks of over 500 'writers' in approximately 800 photographs. These photos make an unique and historic collection of Amsterdam street art, documenting the works of artists like Faile, Shoe, Otto Schade, Karski, Beyond, C215, Alice Pasquini, KBTR, Anopsy, Bustart, Stinkfish, Inca, Beast and many more.
This photo collection is an unique retrospective, as much of the published street art has vanished as a result of buildings being demolished and walls being rewritten. #STREETART AMSTERDAM illustrates why street art has become a recognised art category. 
 unfortunataly #STREETART AMSTERDAM is SOLD OUT!
Today, I am still hunting & hoping to publish #STREETART AMSTERDAM part two.
To encourage publishers, I created this overview of my 2017/2021 pictures.
special: YORKONE IN THE SPOTLIGHT
Kees Kamper 
© opqrstu 2021